Cotati
Personalized House Cleaning Services in Cotati
SonoMarin Cleaning Services is a family owned and operated cleaning company that gives you exactly the cleaning options you want. We have been providing house cleaning services in Cotati since 1991. We also offer cleaning services for commercial customers.
Our passion for service and ongoing staff training means that you'll get a team of dedicated cleaning professionals. Because we send the same team members to your home, you can rest assured that you'll get an outstanding cleaning, time after time.
We offer three suggested levels of home cleaning services, which you can personalize: standard, basic and premium. We also offer deep cleaning and extra services that many cleaning companies do not provide.
If you want an exceptional house cleaning service that will provide exactly what you need, please contact SonoMarin Cleaning Services for a free cleaning estimate. We are proud to have created happy customers in Cotati for more than 20 years.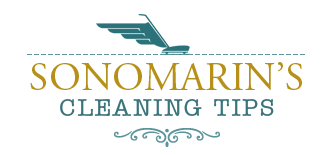 SonoMarin's Cleaning Tips: How to Clean a Ceiling Fan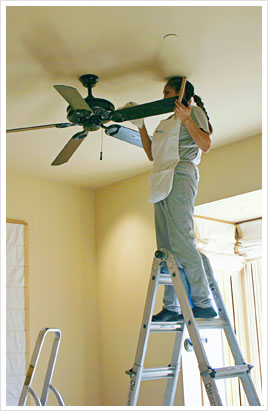 Keeping your ceiling fan clean and dust free ensure a long life for your fan. It also makes the air in your home cleaner and safer for your family.
Before you begin, make sure that the fan is turned off.
To clean a dusty ceiling fan:
Lay a sheet below the area of your ceiling fan to catch the dust.
Using a long handled duster with a dry dusting head, start at the canopy and dust down through the motor housing. Dust the top of the fan blades carefully. Then dust the bottom of the fan blades. Finally, gently dust the glass shade.
Pick up the sheet and take outside to shake out the dust before washing it.
To clean a greasy ceiling fan, for example, the fan in your kitchen:
Place an old sheet on the floor beneath the ceiling fan and set up a step ladder in the position that is easiest for you to reach the fan.
Pour a small amount of degreaser or mineral spirit onto a baby wipe, and wipe down the ceiling fan. Start at the canopy and work your way down to the down rod and the motor housing.
Clean the fan blades from top to bottom, taking your time to carefully scrub away any tough dirt. If you are using mineral spirit, be careful as this could affect any design or silk screens on the blades.
Throw away the dirty baby wipes, and take the sheet outside to shake off any dirt before washing it in warm water.
You will be amazed at not only how good your fan looks, but also how much better it will run.