Our Company
About SonoMarin Cleaning Services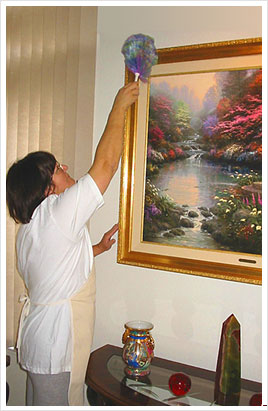 Family owned and operated since 1991, SonoMarin Cleaning Services specializes in residential and commercial cleaning throughout Marin County, Sonoma County and San Francisco. Owner, Stanley Costa, wants every customer to be 100% pleased and puts his personal guarantee on it. "All of our work is customized to your needs. We give you value for your money, but most importantly, we give you peace of mind. If you are not perfectly satisfied within 24 hours after we finish our cleaning service, we will gladly re-clean the area."
What Sets SonoMarin Apart from Other Cleaning Companies?
Customer service is the most important aspect of SonoMarin Cleaning Services' operation. We encourage our customers to create personalized cleaning plans that match their exact needs. Many of our employees have been with us for more than 6 years, so our customers can count on getting the same expert cleaning team, time after time.
How We Work
Because we value your time, we work as a team of three cleaning professionals, led by a supervisor. Our vans are equipped with GPS Technology and a satellite-tracking device, so we always know the exact location of your home or business. This state-of-the-art technology also enables us to accurately predict when our crew will arrive at your location, as well as how long they stayed.
We always bring our own cleaning equipment and green, eco-friendly supplies, including vacuums with HEPA filters.
Our Philosophy
Our top priority is making sure that our customers always receive prompt, efficient cleaning services. We also take great pride in our responsiveness—we're happy to handle special requests and accommodate our customers' schedules.
Diamond Certified Since 2005
SonoMarin Cleaning Services has been Diamond Certified longer than any other North Bay cleaning company. We are very pleased to have earned this prestigious award, year after year, because it is based on our customers' feedback.
Our Employees Are Professionals in Their Field
Our employees are professionally trained and receive frequent updates via "lunch and learn sessions," lectures by invited experts and phone seminars. They are also given extensive expert-assisted hands-on experience. Everyone who works for SonoMarin Cleaning Services understands the importance of making our customers happy. As Stanley says, "I believe that honest, hard work is the key to success, and all of our employees share the same values."

If you are looking for an exceptional, local cleaning company for your home or business and want to learn more about what we offer, please contact us for a free cleaning estimate. We are fully licensed, bonded and insured.