Post-Construction & Post-Remodel Cleaning
We Specialize in Post-Construction and Post-Remodel Cleaning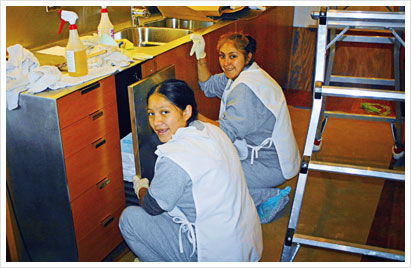 Post-construction and post-remodel cleaning is best performed by experienced professionals with the right equipment. Any amount of new construction and remodeling can leave a fine layer of wood and paint dust particles throughout the area. If your home or office isn't professionally cleaned, you might find dust and dirt hidden in cracks and crevices months after your construction project is completed! And, all those fine wood and paint particles may be harmful to your family or employees' health.
SonoMarin Cleaning Services has the right experience and equipment to professionally take care of your post construction or post remodel cleaning. After many years working for reputable construction companies and discerning home owners, we are fully qualified to help you as well.
Hospital-grade HEPA Vacuum Cleaners
Regular vacuum cleaners cannot remove all of the harmful dust created during most construction projects. We use hospital-grade vacuums, equipped with triple-filter HEPA systems to get into every crevice, nook and cranny. We always use environmentally-friendly, biodegradable cleaning products from Ecolab that are easy on you and the environment.
Post Construction Carpet, Upholstery and Window Cleaning
Along with vacuuming your carpets, cupboards and window sills, we can also clean your carpet and upholstery. Since we use a truck-mounted machine with the latest technology, we can exactly control the steam temperature, suction pressure and amount of moisture applied. We avoid soaking your carpet pad, guaranteeing a faster drying time and better results.
If your windows are streaked from your construction activities, we can professionally clean them as well. If the exterior of your home or business has been affected, we can power wash your siding, roof, deck, patio or driveway.
If you need professional post-construction cleaning for your construction or remodeling project, contact SonoMarin Cleaning Services for a free cleaning estimate. If your contractor is responsible for post-construction cleaning, please ask that they contact us.
You will be delighted with the results that we deliver!