Santa Rosa
Personalized House Cleaning Services in Santa Rosa
SonoMarin Cleaning Services has provided house cleaning services for customers all over Santa Rosa since 1991. What sets us apart form other cleaning services is that we encourage our customers to create a personalized cleaning plan that matches their exact needs. Our cleaning processes are always environmentally friendly. We bring our own cleaning equipment and green, eco-friendly supplies, including vacuums with HEPA filters. We are proud to have been Diamond Certified since 2005.
Exceptional Cleaning, Time After Time
Many of our employees have been with us for more than 6 years, so you can count on getting the same expert cleaning team, time after time. Because we value your time, our van-equipped GPS Technology and satellite-tracking enables us to accurately predict when our crew will arrived, as well as how long they stayed.
If you want an exceptional house cleaning service that can provide exactly what you need, please contact SonoMarin Cleaning Services for a free cleaning estimate. We have been creating happy customers in Santa Rosa for more than 20 years.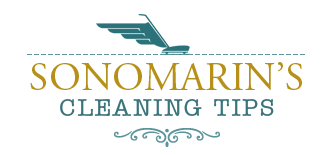 SonoMarin's Cleaning Tips: How to Vacuum a Carpet Like a Pro
Vacuuming is usually not a favorite chore, but these tips can help you do a better job and make the process a whole lot easier:
Work on one room at a time.
Start by checking the carpet for debris. Collect large pieces (wads of paper, wrappers, balls of hair, paperclips, etc.) by hand, since this will put less pressure on the vacuum cleaner.
Use the vacuum cleaner crevice tool to clean around the edges of your room.
Use the vacuum crevice tool or flat universal piece to clean under furniture.
Starting at the corner farthest from the door, vacuum left to right and front to back. It is best to go more slowly when pulling the vacuum backwards and faster when moving forwards.
Work your way across the room until you reach the opposite wall. Then, step backwards 4-7 feet, so your new path finishes where your previous path started. This will ensure that you don't create footprints on the pattern created by the vacuum.
Your carpet should look fresh and clean.