Window Cleaning
Window Cleaning that Will Make Your Windows Shine Inside and Out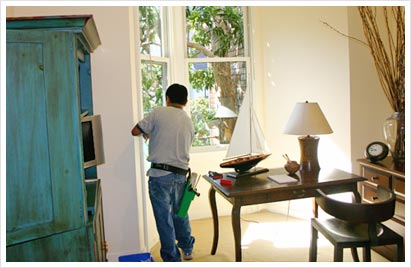 Your home or office will look its best with spectacularly clean windows. SonoMarin offers  comprehensive window cleaning services** for both residential and commercial customers.
We offer basic and full window cleaning service levels, depending on your needs. Both levels include cleaning all glass panes, inside and out, with a non-streak proprietary cleaning agent.
Basic Window Cleaning Service
Includes cleaning just the glass panes, both inside and outside
Does not include cleaning screens and window tracks
Full Window Cleaning Service
Cleaning glass panes both inside and outside
Cleaning screens*** with mild soap and water
Cleaning tracks and/or opening/closing mechanisms
Lubricating tracks and/or opening/closing mechanisms with a non-residue agent
If you are looking for exceptional window cleaning services from a local cleaning company, please contact SonoMarin Cleaning Services for a free cleaning estimate.  We offer a flexible schedule for our services.
** Some height limitations apply
*** We do not assume liability for screens that have above average wear and tear.