Healdsburg
Personalized House Cleaning Services in Healdsburg
SonoMarin Cleaning Services is a family owned and operated cleaning company that can give you exactly the cleaning options you want. We have been providing house cleaning services in Healdsburg since 1991. We also offer cleaning services for commercial customers.
Our passion for service and ongoing staff training means that you'll get a team of dedicated cleaning professionals. Because we send the same team members to your home, you can rest assured that you'll get an outstanding cleaning, time after time.
We offer three suggested levels of home cleaning services, which you can personalize: standard, basic and premium. We also offer deep cleaning and extra services that many cleaning companies do not provide.
If you want an exceptional house cleaning service that can provide exactly what you need, please contact SonoMarin Cleaning Services for a free cleaning estimate. We have been creating happy customers in Healdsburg for more than 20 years.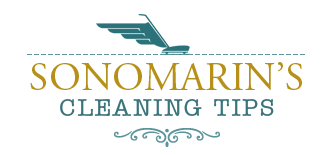 SonoMarin's Cleaning Tips: How to Get Wine Glasses Sparkling Clean
Wine glasses can be especially tricky to clean because they are delicate and streak easily. We recommend washing your beautiful wine glasses by hand rather than machine because, regardless of how carefully you stack, dishwashers are tough on fragile glassware.
Here is how to get them sparkling clean:
Wash them in plain hot water by hand.
Then place them upside down and let them air dry. Using a towel will usually leave fine fibers behind.
If you feel that you must use detergent, use as little as possible, then rinse several times in very hot water.
If you find a fine grey film on your wine glasses, soak them in a weak vinegar solution for an hour or two. The vinegar (acetic acid) will eat up the stuck-on organic matter (wine) leaving sparkling clean glasses.
Your wine glasses should shine!